Alkor Technologies provide a large variety of optical mirrors optimized for specific wavelength ranges. We produce custom high precision infrared optical mirrors: flat mirrors, concave mirrors, high reflectivity dielectric mirrors and more. We use a lot of different optical materials as a substrate for mirror: Fused Silica, optical glass, Zerodur, Sapphire, Silicon.
These products are offered in a variety of metallic and dielectric coatings that suit all your application requirments.
Please contact us for pricing and delivery terms of your custom optical mirror!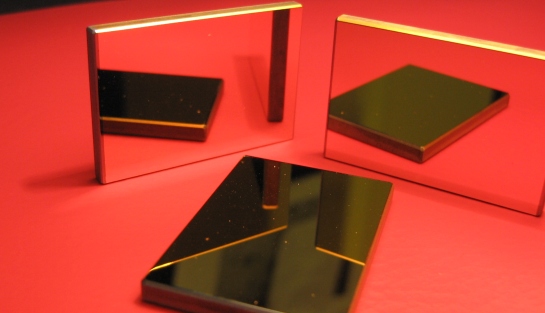 Standard protected aluminum is our most popular optical mirror coating for application in the visible and near infrared. SiO is typically used as an overcoat to protect delicate aluminum mirror coating. This treatment provides an abrasion-resistant surface while maintaining the perfomance of aluminum mirror. For 200-250nm wavelength it is recommended to use MgF2 protective layer. It gives higher reflection values in UV spectrum than SiO.
Protected Aluminum: Ravg > 90% from 450 nm - 2 µm,
Ravg > 95% from 2 - 20 µm. Read more.
Gold mirrors are effective for applications requiring high reflectance requiring high refelctance in the NIR and IR reflections. Reflection in visisble spectrum is poor. Since a durable coating is necessary for handling purposes, we offer gold coated mirrors with protective overcoat. Please indicate your work wavelength to choose proper protection layer material.
Alkor Technologies produce IR Gold optical mirrors coating on various substrates: Fused Silica, Silicon and other optical crystals.
Gold mirror: Ravg >96% 800 nm to 20 μm. Read more.
Dielectric mirrors can be used for laser or ultra-high reflectance applications. This mirror can be designed for maximum reflection at one specific wavelength or range of wavelengths. Dielectric mirrors typically feature very low loss, >99% reflection at most common laser wavelength and can withstand moderate to high laser powers.
Whether you require custom optical fabrication or one of our many off-the-shelf IR optical mirrors, let us provide you with a prompt competitive quotation today!