Alkor Technologies - manufacturer of CVD ZnSe windows according to customer demands.
Low dispersion
Available uncoated or AR coated for 2-13Ám, 8-12Ám, 10.6Ám
Ideal for Thermal Imaging and Spectroscopy applications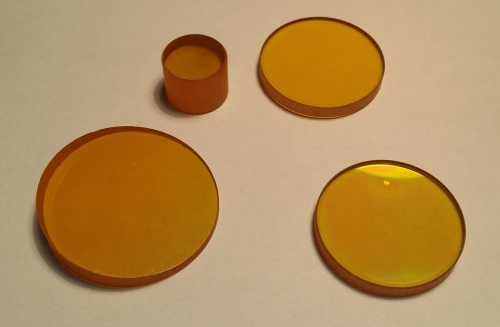 Zinc Selenide windows is suitable for applications in the IR band and is often used as a IR viewport window for thermography or as demountable cell windows in spectroscopy. We provide a large variety of ZnSe windows for vacuum viewports suitable for different flanges.
For the better perfomance of ZnSe windows we offer several types of broad band AR coating for 2-13Ám and 8-14Ám . This coating can be applied on upon request.
Please contact us for quotation of your custom ZnSe window. Our Sales team will answer you within 24 hours. If you do not see a suitable size, write a request, we will make a window according to your drawing at no additional cost. The largest dimensions of ZnSe windows: Diameter 80mm x thickness 15mm. Rectangular ZnSe windows are also available.
| Cat# | Dia, in | Dia,mm | TH, in | TH, mm |
| --- | --- | --- | --- | --- |
| ZnSe-W-12.7-1 | 0.5 | 12.7 | 0.039 | 1.0 |
| ZnSe-W-12.7-2 | 0.5 | 12.7 | 0.079 | 2.0 |
| ZnSe-W-13x2 | 0.512 | 13 | 0.079 | 2.0 |
| ZnSe-W-25.4-1 | 1 | 25.4 | 0.039 | 1.0 |
| ZnSe-W-25.4-2 | 1 | 25.4 | 0.079 | 2.0 |
| ZnSe-W-25.4-3 | 1 | 25.4 | 0.118 | 3.0 |
| ZnSe-W-25.4-4 | 1 | 25.4 | 0.157 | 4.0 |
| ZnSe-W-25.4-5 | 1 | 25.4 | 0.197 | 5.0 |
| ZnSe-W-25.4-6 | 1 | 25.4 | 0.236 | 6.0 |
| ZnSe-W-32x3 | 1.26 | 32 | 0.118 | 3.0 |
| ZnSe-W-38.1-3 | 1.5 | 38.1 | 0.118 | 3.0 |
| ZnSe-W-38.1-4 | 1.5 | 38.1 | 0.157 | 4.0 |
| ZnSe-W-38.1-5 | 1.5 | 38.1 | 0.197 | 5.0 |
| ZnSe-W-38.1-6 | 1.5 | 38.1 | 0.236 | 6.0 |
| ZnSe-W-41x3 | 1.614 | 41.0 | 0.118 | 3.0 |
| ZnSe-W-49x3 | 1.929 | 49 | 0.118 | 3.0 |
| ZnSe-W-50.8-3 | 2 | 50.8 | 0.118 | 3.0 |
| ZnSe-W-50.8-4 | 2 | 50.8 | 0.157 | 4.0 |
| ZnSe-W-50.8-5 | 2 | 50.8 | 0.197 | 5.0 |
| ZnSe-W-50.8-6 | 2 | 50.8 | 0.236 | 6.0 |
| ZnSe-W-63.5-6 | 2.5 | 63.5 | 0.236 | 6.0 |
| ZnSe-W-63.5-8 | 2.5 | 63.5 | 0.315 | 8.0 |
| ZnSe-W-76.2-6 | 3 | 76.2 | 0.236 | 6.0 |
| ZnSe-W-76.2-8 | 3 | 76.2 | 0.315 | 8.0 |
Standard specifications:
Diameter tolerance: +0/-0.1mm;
thickness tolerance: +/-0.1mm;
Clear Aperture: 90%;
Parallelism: 3 arc min;
Flatness: 1/10 wave at 10.6Ám;
Surface finish: S/D 60/40