Alkor Technologies offer a range of scintillation detectors: NaI(Tl), CsI(Tl), BaF2. Please send us your specifications, we will quote it within 24hrs.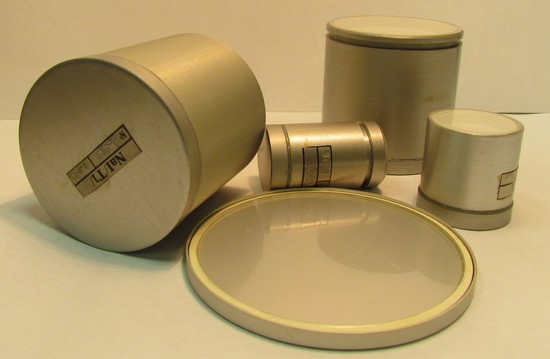 We offer individual scintillation crystals of cylindrical shape, any technologically possible size, packaged in an aluminum case with a reflector of magnesium oxide and quartz or optical glass output window. According to customer demands it is possible to order only scintillation material in a vacuum pack.
 
Specific Gravity
Wavelength of max. Emission
Right Yield Photons/MeV
Decay Time
NaI(Tl)
3.67
415
38.000
0.23
CsI(Tl)
4.51
540
65.000
0.68(64%), 3.34(36%)
CsI(Na)
4.51
420
39.000
0.46,4.18
BaF2-fast
BaF2-slow
4.89
4.89
220
310
1.400
9.500
0.0006
0.63
Applications using scintillation detectors:
1. NaI(Tl) - Anger camera detectors, oil well exploration, general purpose gamma ray, x-ray, and changed particle spectroscopy, large volume anti-Compton spectroscopy, low background radiation detection, high energy physics.
2. BaF2 scintillating crystal - Fast timing, time-of-flight applications, gamma ray and charged particle discrimination, positron emission tomography, high dose radiation fields, high energy physics.
3. CsI (Na) - Oil well exploration, large volume anti-Compton spectroscopy.
4. CsI(Tl) - High energy physics, photodiode applications, computerized axial tomography.